27 February 2016
Click here for Part I – Blagoevgrad.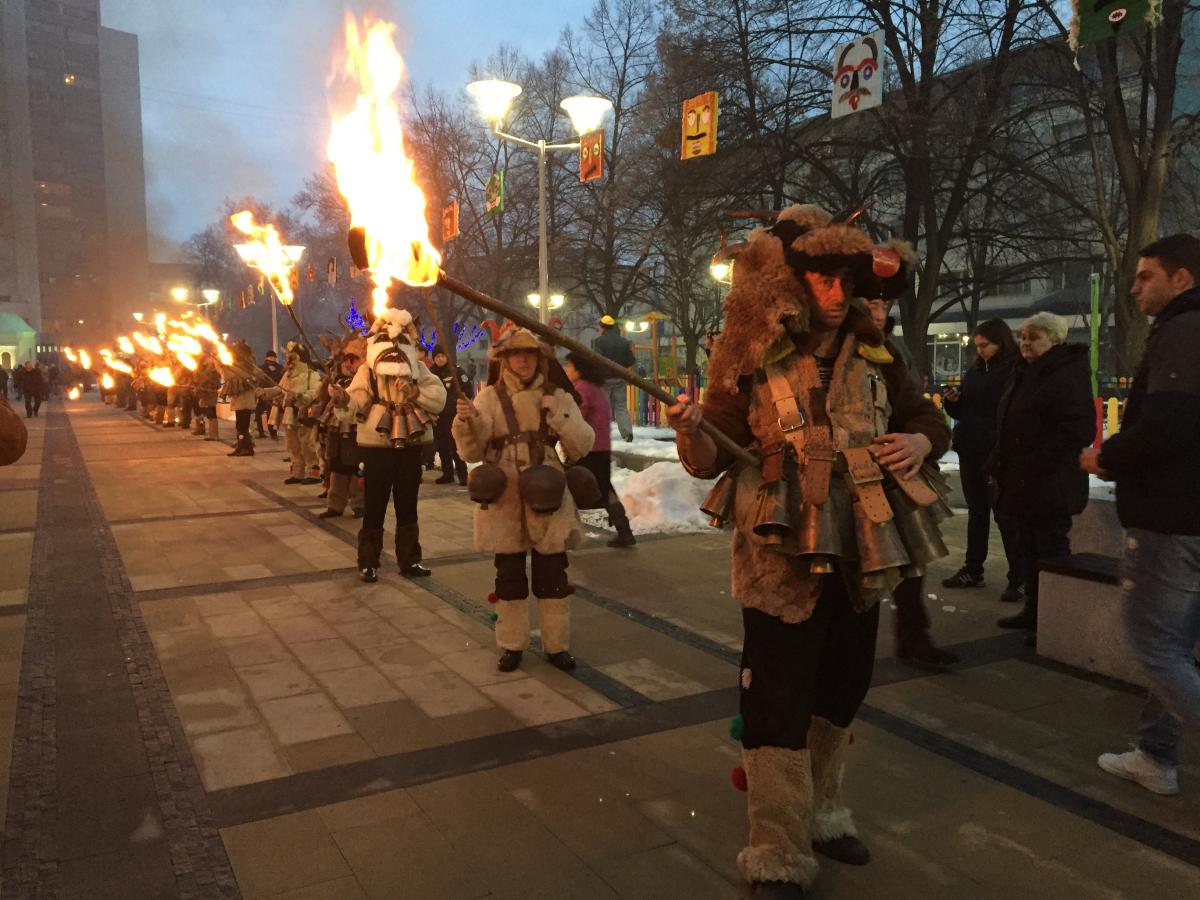 Two rows of masked figures brandishing bell-belts and torches marched down Pernik's pedestrian boulevard as tourists and journalists leapt away from the flames. It was a Friday in late January, unseasonably warm but still chilly and damp with fog. The torchbearers passed a collection of food booths, many with a smattering of tables and chairs outside, which sold snacks and meals like döner, pochivki (fried donuts), crepes, sausages, and cotton candy. They did not stop at a small stage that materialized on their left, but instead continued to weave through the narrow aisle left between sellers of tchotchkes – miniature masked kukeri figurines, Bulgarian flags, cheap imitation musical instruments, balloons, knives with ornate wooden handles, candles, pink stuffed dogs that bark and walk, you name it. The final destination was a large stage set up in front of the municipal building, where the opening ceremony for the 25th International Festival of Masquerade Games "Surva" took place.
The Pernik festival is huge. In addition to Saturday's event during which groups from different villages marched in a parade and performed for prizes in front of a panel of judges, like what I saw in Blagoevgrad and Rakovski, this year's four-day event included an academic conference, art exhibition, culinary demonstration, music and dance performances, and artistic workshops, to name a few. Visiting groups not just from Bulgaria but from countries including Mali, Serbia, Russia, and Denmark, to name a few, gave folk music and dance performances on the small stage, thronged by masses of spectators. The festival received an extra boost of publicity this year because it was added to the UNESCO List of Intangible Cultural Heritage in December (see their video here). A representative of the body presented a certificate to Pernik's mayor at the opening ceremony, which was followed by fireworks and a large bonfire.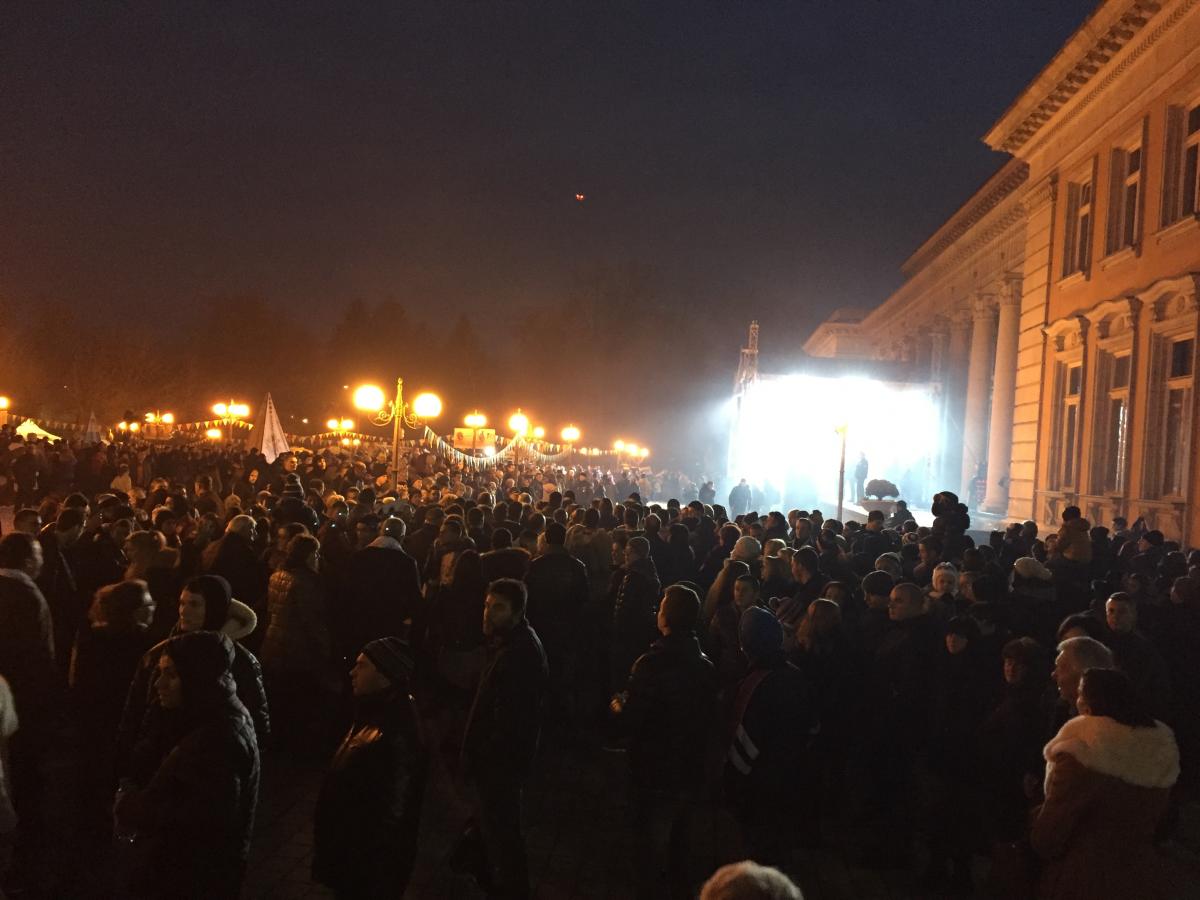 In some ways, the Pernik festival may be just about as far away as you can get from the village rituals while still being recognizable as participating in the same tradition. It also provides an apt example of how Western European and capitalistic ideals have influenced the practice in recent years. In fact, two of the speakers at the opening referred to it as the Bulgarian "Carnival," linking it to pre-Lenten celebrations in other parts of Europe. While villages in some regions do perform the ritual in the period just before Lent, like Carnival, others link it more to January 1 or 14 for the New Year. I even read an account wherein the costumed participants jumped into a stream or fountain in early January, which seems to indicate overlap with Jordanovden.
Kukeri have been present in Bulgaria far longer than Christianity. Though there is substantial regional variation, an average village mumming ritual (if there is such a thing) involves a collection of costumed participants – some wearing fur, masks, and bells around their waists; possibly a "bear trainer" with a charge or two; perhaps a mock Orthodox priest, a cross-dressed "bride" with his groom, and some "Gypsies" with blackface[1] – who proceed from house to house, interacting with the families who live there to ritually ensure a prosperous year. They often receive food, homemade rakia or wine, and money in return.
During the period of Ottoman rule (1396-1878), the practices were repressed and performed only secretly, an all but impossible feat considering the fact that public spectacle and lots of loud noise (from the bells) are a big part of the tradition. However, the practices then became seen as an act of resistance, something that Creed believes may have helped ensure their continuing vitality (loc. 295). Ottoman rule may have also prevented the Orthodox Church from stamping out these heretical practices, since the influence of the church was lessened during that period, and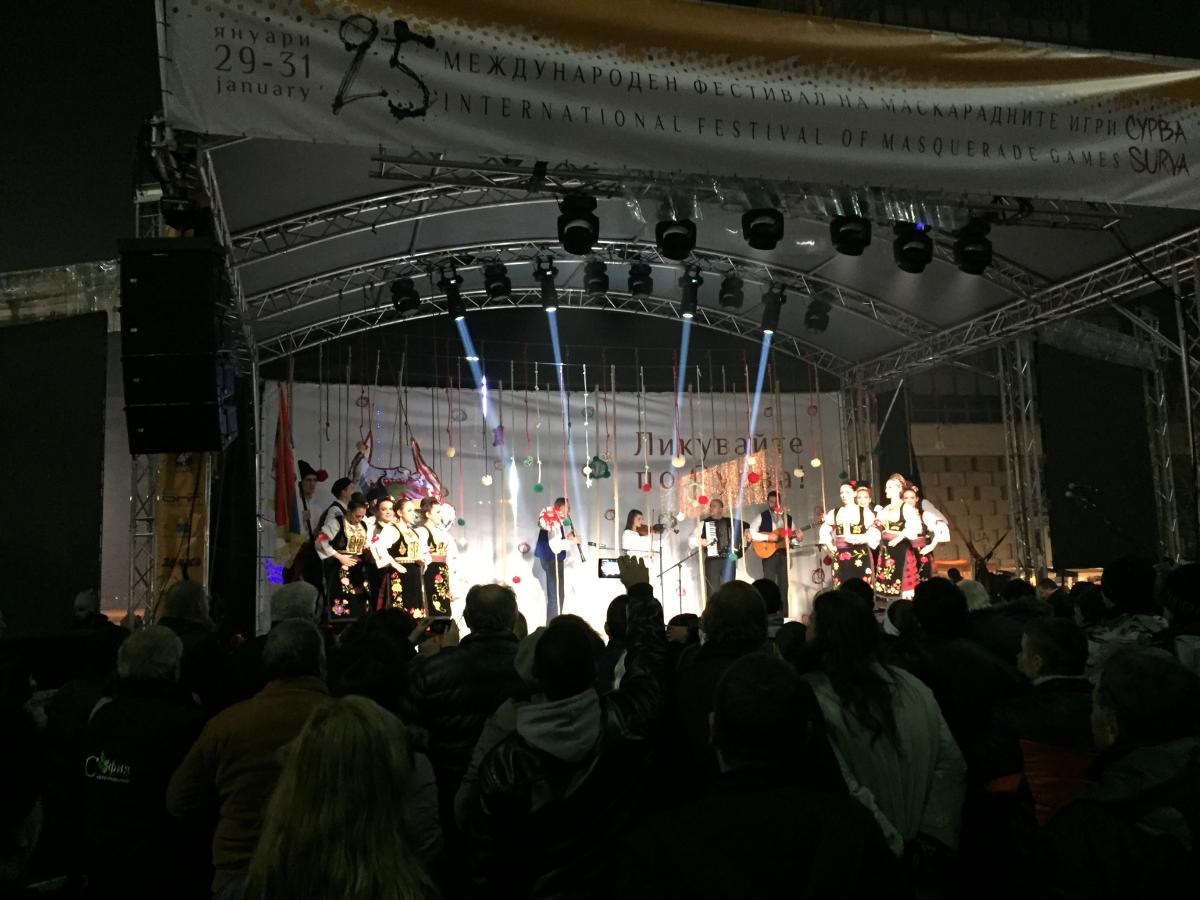 also provided relative isolation from cultural developments in Western Europe (loc. 295-7).
Initially, Soviet-era leaders, like the Ottomans, repressed the practice, again reaffirming its status in some people's eyes as a performance of resistance. However, in the 1960s, the political establishment decided to coopt these mumming rituals, much like music and dance, for the sculpting of a Bulgarian cultural nationalism. Creed writes,
"[T]he festivals were first devised in the 1960s precisely to displace what Communist Party officials considered backward village practices. With the festivals, leaders hoped to redefine and relocate village rituals that were ideologically objectionable (superstitious), and perhaps even politically threatening (think large organized groups of masked men), into highly regulated urban folkloric performances. By gathering together the disparate practices of different villages into joint festivals, the diverse rituals were recast as a single custom that could then exemplify a pan-Bulgarian folk culture in support of nationalistic objectives. The subsequent spread of the term 'kukeri' for many of these rites not previously known by that term[2] is evidence of this outcome. Designation as 'folklore' also intended to downplay the existing vitality of the rituals, since folklore was already and always something that was old and needed to be preserved or protected" (loc. 823).
In addition to the parade and adjudicated performance that replace village home visits in the festival context, there are many other ways in which these festivals differ from their source of inspiration. Typically, more participants represent the village at a festival than participate in the local activities (loc. 816). In addition, certain characters are more common at festivals, like bears and trainers, whereas villages may have raunchier or more political caricatures (loc. 794).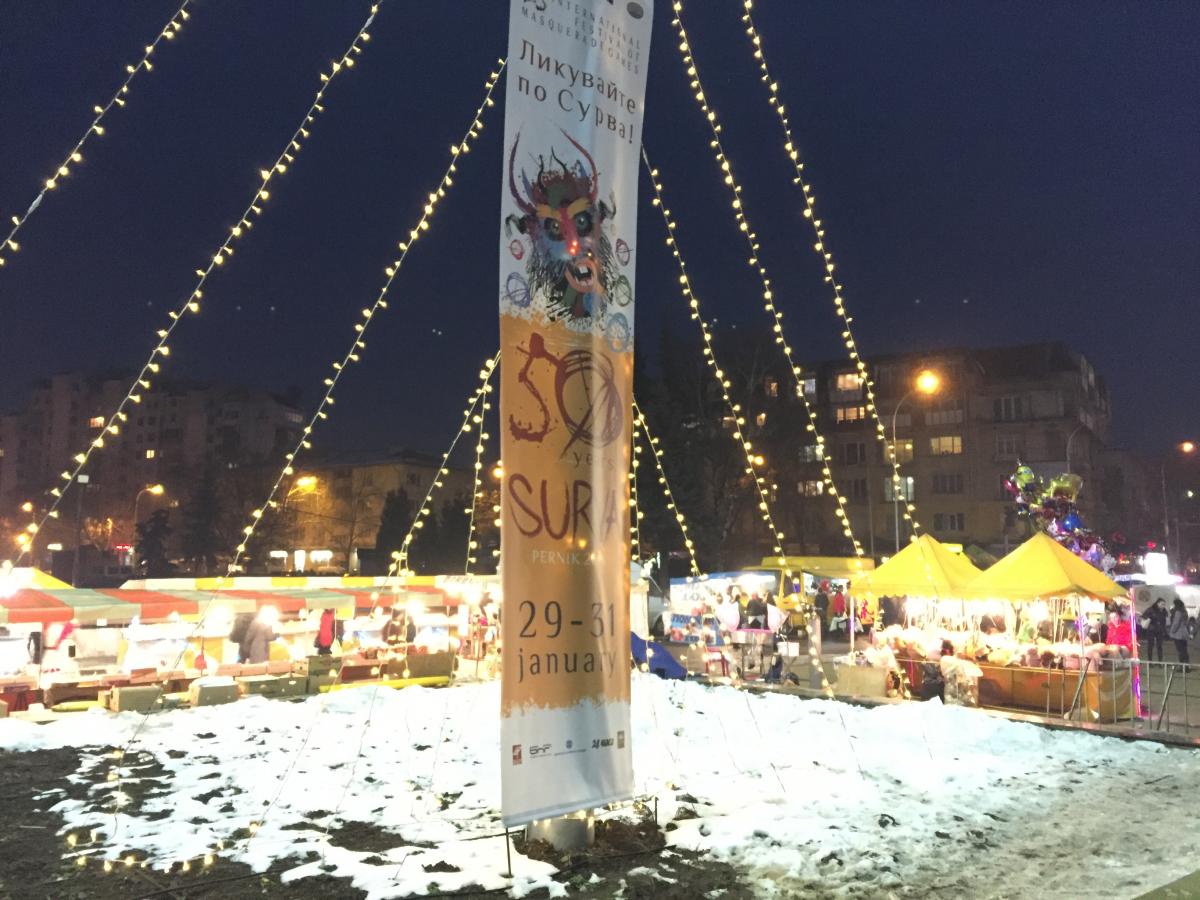 The towns and cities where festivals take place may have no endemic mumming traditions of their own. Alcohol consumption, of course, is a huge part of the festivities wherever they take place; I witnessed several participants reaching into their fur suits to pull out bottles of rakia, take a swig, and pass them on.
1989 may have come and gone, but many of these festivals have found ways to survive even without the same degree of state sponsorship. In the capitalist fashion, "devotees sought ways to commodify the rituals for a tourist market. This is not simply a case of capitalism's well-known co-optation of critical practices into marketable goods but is equally the grassroots product of ritual aficionados trying to insure the perpetuation of the practices in a radically changing context, and in so doing sacrificing some of the meanings and components they were devoted to" (loc. 412). The souvenir and food booths, fair-style activities like inflatable slides and gambling games, and marketing of the "Bulgarian Carnival" for international tourists are all part of this.
Kukeri practices provide an interesting lens through which to examine Bulgarian history in its variations and complexities. Paganism, Christianity, Ottoman "occupation," Nationalism, Communism, Capitalism… still the figures carry on, ringing their bells with characteristic swagger. Through each of these transitions, the traditions have picked up new elements and lost others, resulting in the fascinating blend practiced today.