13 February 2016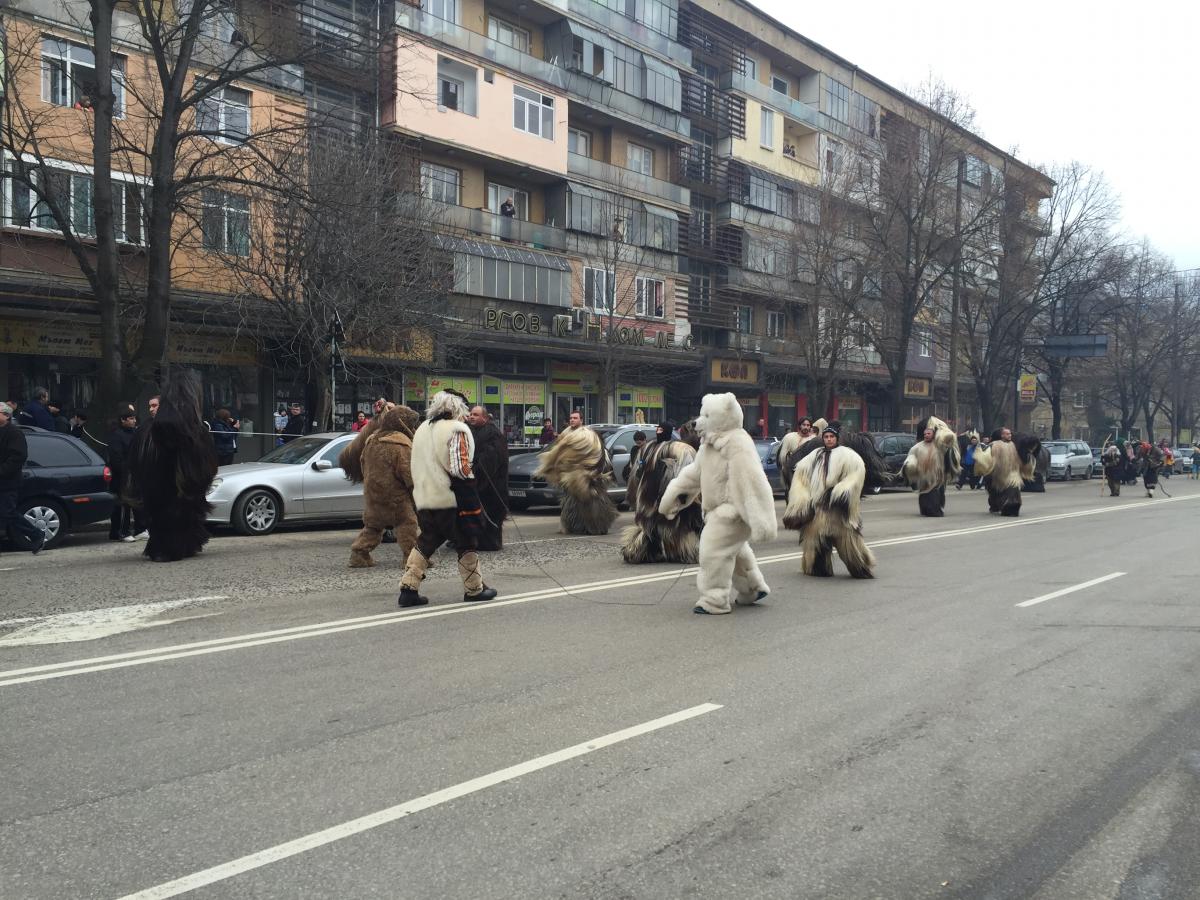 [Updated 28 February 2016]
The bus arrived in the Blagoevgrad station earlier than scheduled. The city of about 70,000 sits just over an hour south of Sofia, near Bulgaria's western border with Macedonia. Blagoevgrad was to be the location of the first of three kukeri festivals I attended in January and February. Though I didn't encounter a single kaval at these events, observing them and doing some additional reading helped clarify for me certain elements of Bulgarian history and culture as they relate to folklore. The three posts in this series will discuss my experiences at each of these festivals and how they relate to issues like political structures, gender, music, race, and nationalism. Though I arrived at many of the observations and questions described here on my own, my understandings and analyses have been greatly influenced by Gerald Creed's excellent book on the subject, Masquerade and Postsocialism: Ritual and Cultural Dispossession in Bulgaria (2011).
The information on Blagoevgrad's municipal website indicated that the gathering point for the beginning of the parade would be 11:00 at the train station, so I headed straight there. I wasn't sure exactly what to expect. I hadn't yet read Creed's book, so most of the knowledge I had about kukeri came from a presentation I had attended at EEFC's Mendecino Balkan Camp. The presentation had dealt with the village fertility ritual, in which variously costumed men proceed from house to house, clanging a set of bells strung around their waists, knocking on doors and staging interactions with residents to guarantee villagers good fortune in the next year's harvest. But Blagoevgrad is a city. What would such a procession entail there, since there are obviously far too many residences to visit every one?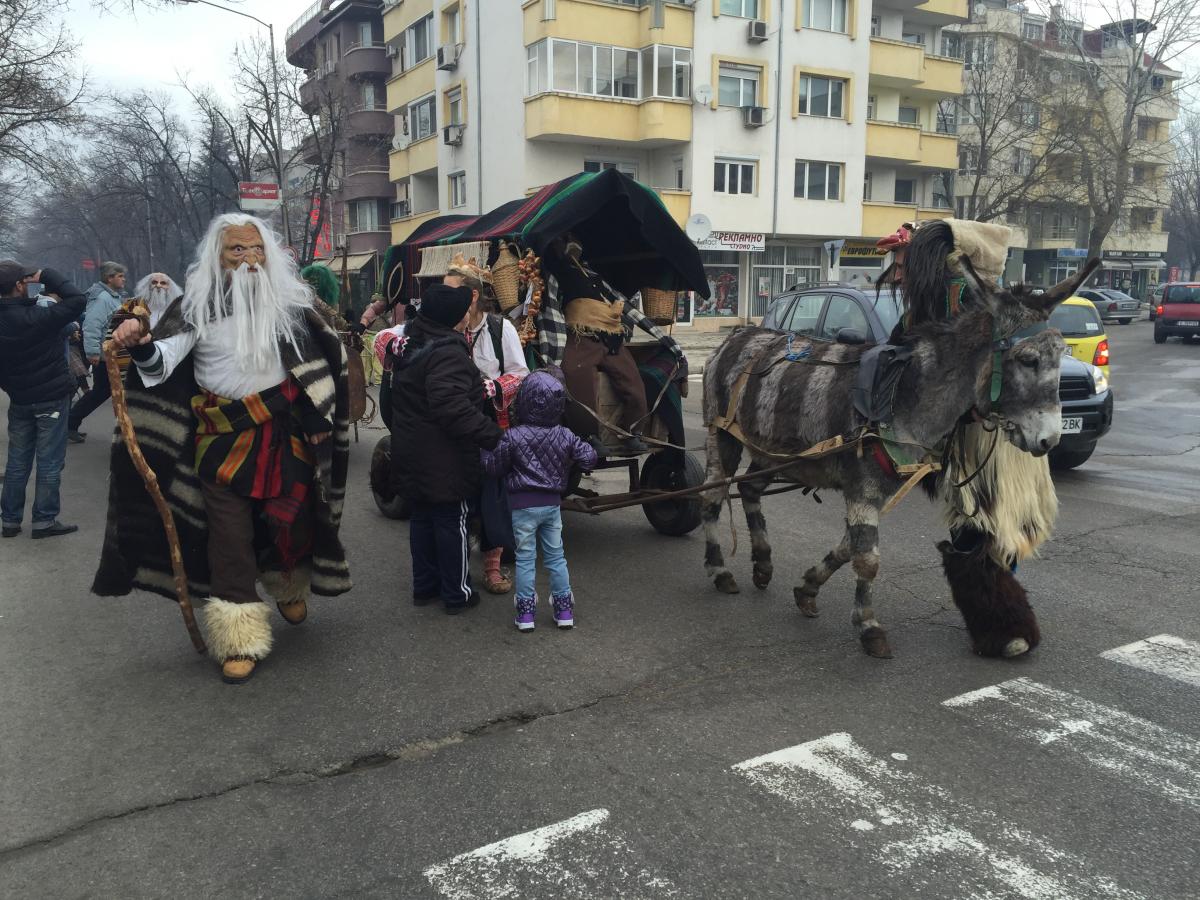 There was already a modest group assembled in the station's parking lot when I arrived, despite the fact that it was nearly an hour before the scheduled launch. As I waited, additional cars drove up and released participants into the fray. The majority of those who gathered there were wearing either colorful clothing associated with traditional rural life or longhaired fur suits without masks or hats. Interestingly, I did not encounter this style of suit at either of the other festivals, where shorter fur and elaborate masks were predominant (a stark regional difference, especially considering that it is less than an hour's drive from Blagoevgrad to Pernik). Also unlike the other festivals, most of the costumes did not include any bells. Those wearing the fur moved with a sort of waddle-swagger that tossed the fur from side to side in graceful arcs. I was reminded of how some mammals puff out their fur when threatened in order to appear bigger and more aggressive. Participants of all ages seemed to be having a lot of fun showing off how impressively they could flash the fur (which was quite cute in the case of the youngest participant, who looked to be three or four years old).
Since those wearing the fur were not disguised behind masks, I soon noticed something surprising about their demographic – some of the younger participants were girls! Looking more closely, I realized that it was not only kids, but even many of the young adults who were women, which ran contrary to my understanding of the traditionally gendered ritual. Were these young feminists rebelling against the patriarchal order? That seemed a bit too optimistic of a conclusion, considering how strongly gender differences are emphasized in everyday life here. As I continued observing throughout the day, I reached the conclusion that it wasn't just an anomalous group from a single nearby village defying gender stereotypes, but a widespread shift that must have been years in the making.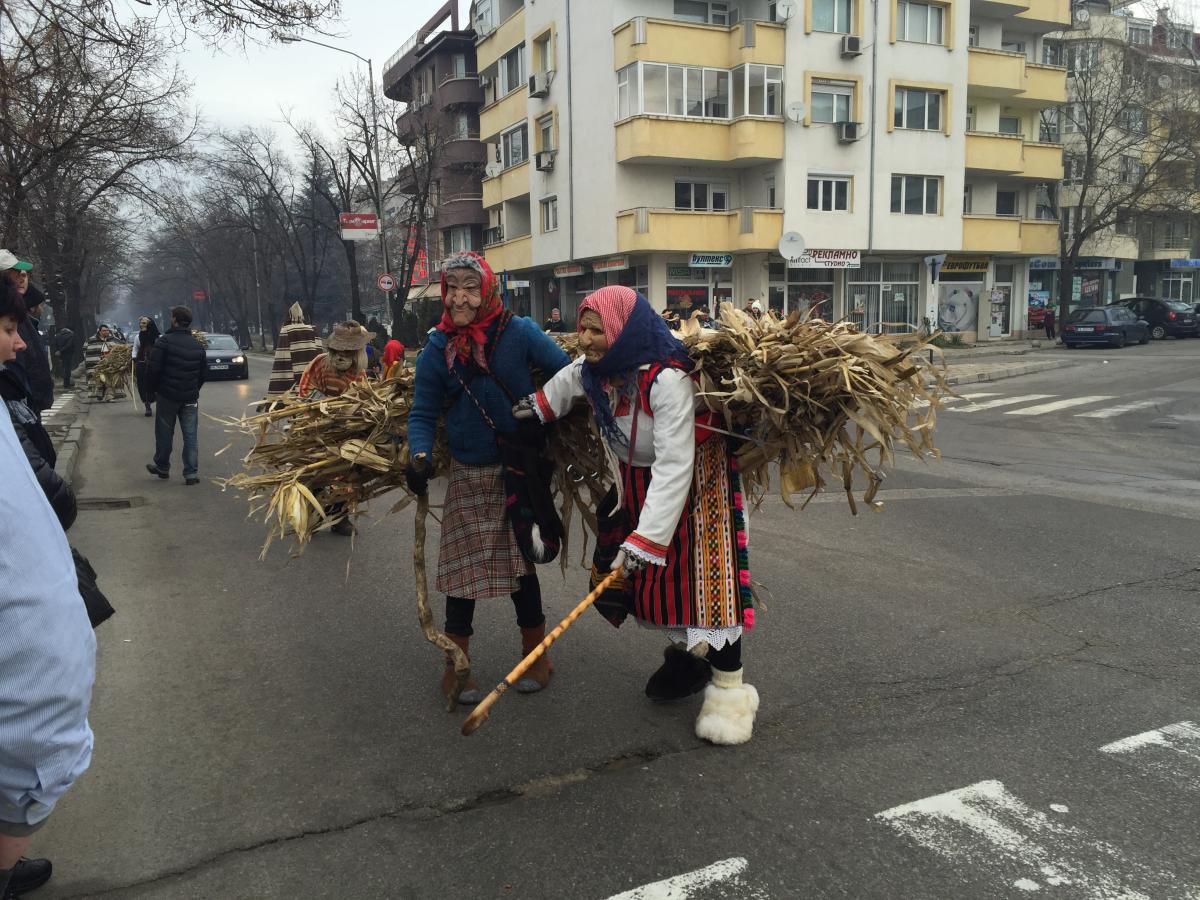 Creed emphasizes that, despite its appearance of inclusion, the contemporary kukeri ritual still reinforces ideas of manhood in the face of perceived threats that came first from the politics of communism and later from the economics of capitalism (ebook locations 1054, 1111). The affirmations of patriarchal masculinity in the rituals abound – the strength and endurance required to parade around villages for hours at a time while wearing heavy costume elements (loc. 1064), weapons like swords and costume elements like conical hats that serve as phallic symbols (loc. 1084, EEFC presentation), more explicit phalluses like dildos (my observation), ability to withstand the often frigid winter temperatures (loc. 1076), skits of sexual conquest and prowess (loc. 1091), and the bells themselves. According to Creed, "A big bell suggests a big penis, and having many bells is the equivalent of 'having balls'" (loc. 1090).
At one extreme, in traditional (pre-WWII) practices of some villages, only bachelors could participate in what was seen as a coming-of-age ritual (loc. 1041). In others, women were forbidden to leave their houses during the ritual as a precaution against the aggressive (read: violently sexual) masculinity excused under pretenses of ritual and alcohol (loc. 1102). So how did the kukeri ritual become one in which women can participate even in roles linked to the explicit symbols of masculinity described above? Creed cites three reasons for this transformation. Like in many Soviet-style regimes, the one in Bulgaria articulated an ideal of gender equality, exemplified by changes to folklore practice ranging from permitting women to play folk instruments to the inclusion of women in rituals like mumming. Second, after the waves of urban migration triggered by communism and "the changes" of 1989, and of international emigration following the latter, depopulation of rural areas made it necessary to include additional participants to ensure the ritual's survival. Finally, since "Western" is often equated with "modern" and Western modernity at least pretends to promote gender equality, including women helps to "redefine these rituals as modern" (1289) to ensure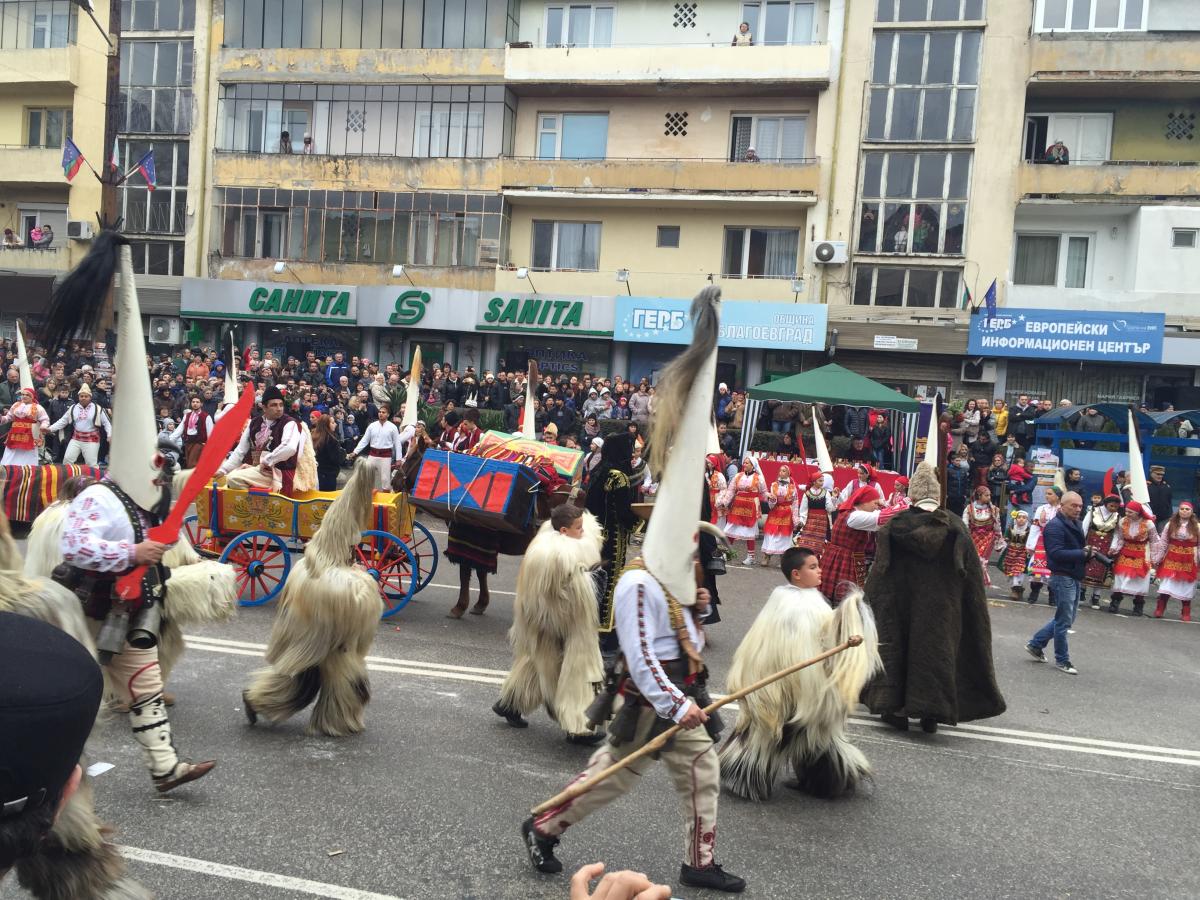 their continuing vitality in a contemporary context.
Unfortunately, Creed's analysis lacks reference to women's own understandings of their participation in these events. Why do individual girls and women choose to participate? Who were the first ones to do so, and via what mechanisms? Have self-conscious reasons for their participation shifted over the past 50 years? Is it just because it seems like a fun thing to do, or does it come from an explicitly nationalistic desire to participate in and continue a ritual seen as linked to Bulgarian identity? Do women ever take informal leadership or organizing roles (other than that of the figurehead of the local cultural administrator established under communism)? How do female participants conceptualize the manner in which their gender relates to their participation, if indeed they reflect upon it at all?
I was still puzzling over the question of demographics when a large group alighted from a bus across the street and entered the parking lot. With barely a warning, several men raised zurlas to their lips and, with a tapan (drum) heartbeat, began to play. It was a sound unlike anything I have experienced before, and something about it almost brought me to tears. The zurla is a double-reed instrument with a timbre that falls somewhere between that of a beginning oboe student and that of the gaida (bagpipe). It particularly evoked the latter in the festival context, in which a small ensemble of 3-4 players relied on some playing a bagpipe-like drone while others performed the melody.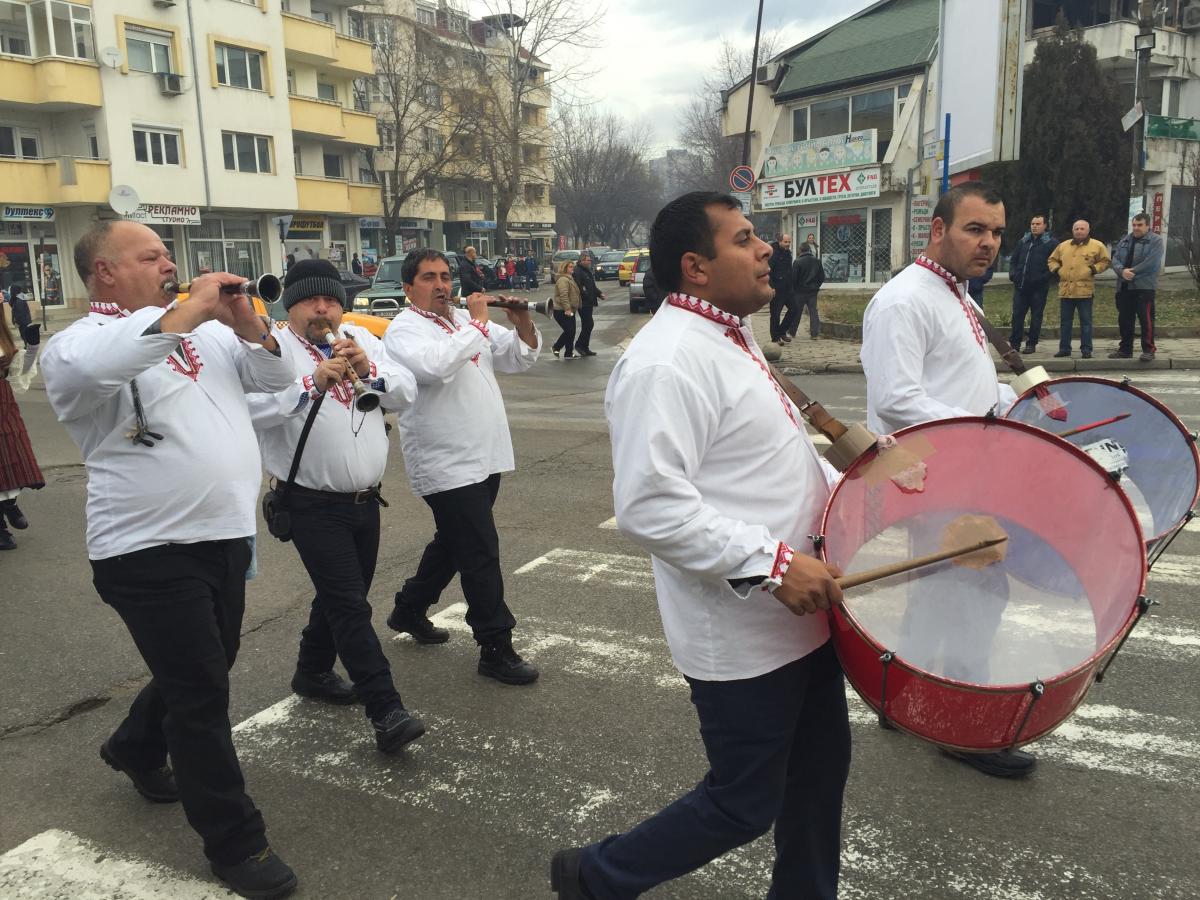 A few minutes later, another group came down the road, with their own musicians and cast of characters (including live animals and several figures wearing wrinkled masks and hunched over canes in exaggerated old age). I raced to follow them, worried that if I lost site of them I would miss the house visits. Of course, I needn't have worried; as we progressed down the street, I noticed that throngs of observers were lined up behind guard-ropes. It dawned on me – this was going to be a parade, not a series of house-visits. Over the course of the morning and into the afternoon, scores of groups from local villages and different Blagoevgrad neighborhoods marched down the main boulevard and gave a climactic performance before the judging tent. In my next post in this series, I will talk more about the history of the distinction between the village rituals and the large festivals.
Throughout the day, zurla-tapan ensembles accompanied a majority of participant groups, another feature that distinguished the Blagoevgrad festival from the others I attended. In fact, nowhere else in the time I have been in Bulgaria have I even encountered a single zurla. Originally, I guessed that this scarcity might have been due to the dominance of Thracian instruments and styles in nationalized folklore and possibly to the instrument's lack of suitability for a folk orchestra. I have since learned that its erasure has much darker roots. Zurla, unlike kaval or gaida, was historically an instrument played only by Roma. The Zhivkov regime actually banned the instrument in 1983 as part of its "assimilation" campaign (Carol Silverman, personal communication), which aimed at erasing differences not interpreted as ethnically and historically Bulgarian. This era saw the government forcing ethnic minorities to slavicize their names and abandon certain cultural practices. According to Silverman, people continued playing the instrument "in private settings even through musicians were fined and went to jail." The instrument miraculously survived and Roma particularly in the Pirin region still play the zurla today.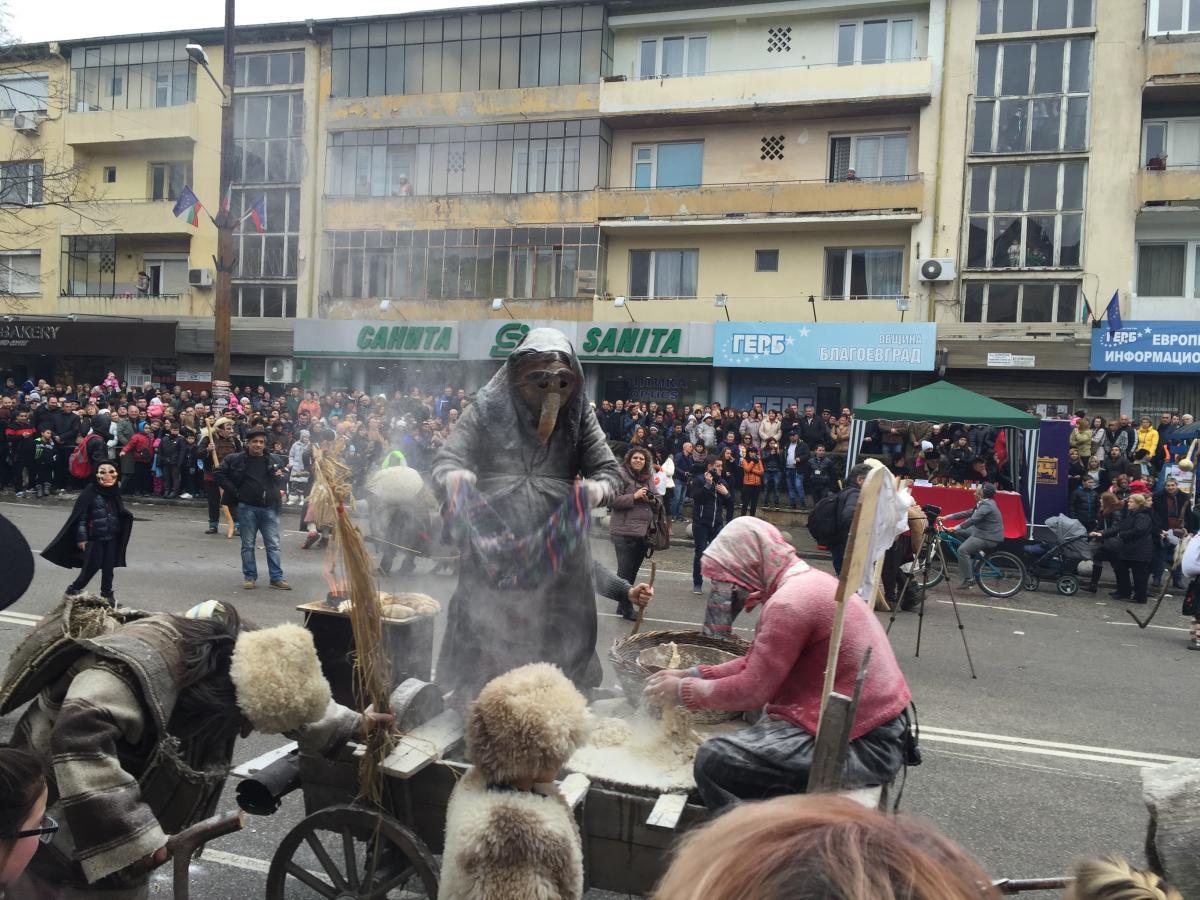 I somehow managed to squeeze into a prime viewing spot directly across from the judging tent. From there I could watch the groups' oft-chaotic performances. Compared to the festival in Rakovski, in which the groups enacted skits that seemed to follow a fairly organized narrative line, in Blagoevgrad there seemed to always be a hundred things happening at once. The fur-suited kukeri marching with the musicians in a circle around the other participants. A wedding skit. Caricatures of the activities of rural daily life like baking, washing clothes, or weaving (interestingly though not surprisingly, the group with the most of these scenes was from one of the Blagoevgrad neighborhoods). A line of women dancing a horo. People wearing modern Halloween costumes of figures like cops and surgeons. Bear trainers wrestling with their charges. It was hard to know what to focus on at any given moment.
In my opinion, the Blagoevgrad festival had several defining characteristics: the long fur of the costumes, the presence and prevalence of the zurla, the all but absence of masks and bells, the presence of live animals, and the chaos in front of the judges. The presence of women was not unique to Blagoevgrad, but it was particularly noticeable there because fewer people were wearing masks. In my next post about the kukeri festivals, I will discuss the Pernik festival and use it as a way to share what I have learned about the history of mumming in Bulgaria and how it evolved from village ritual to commercial festival.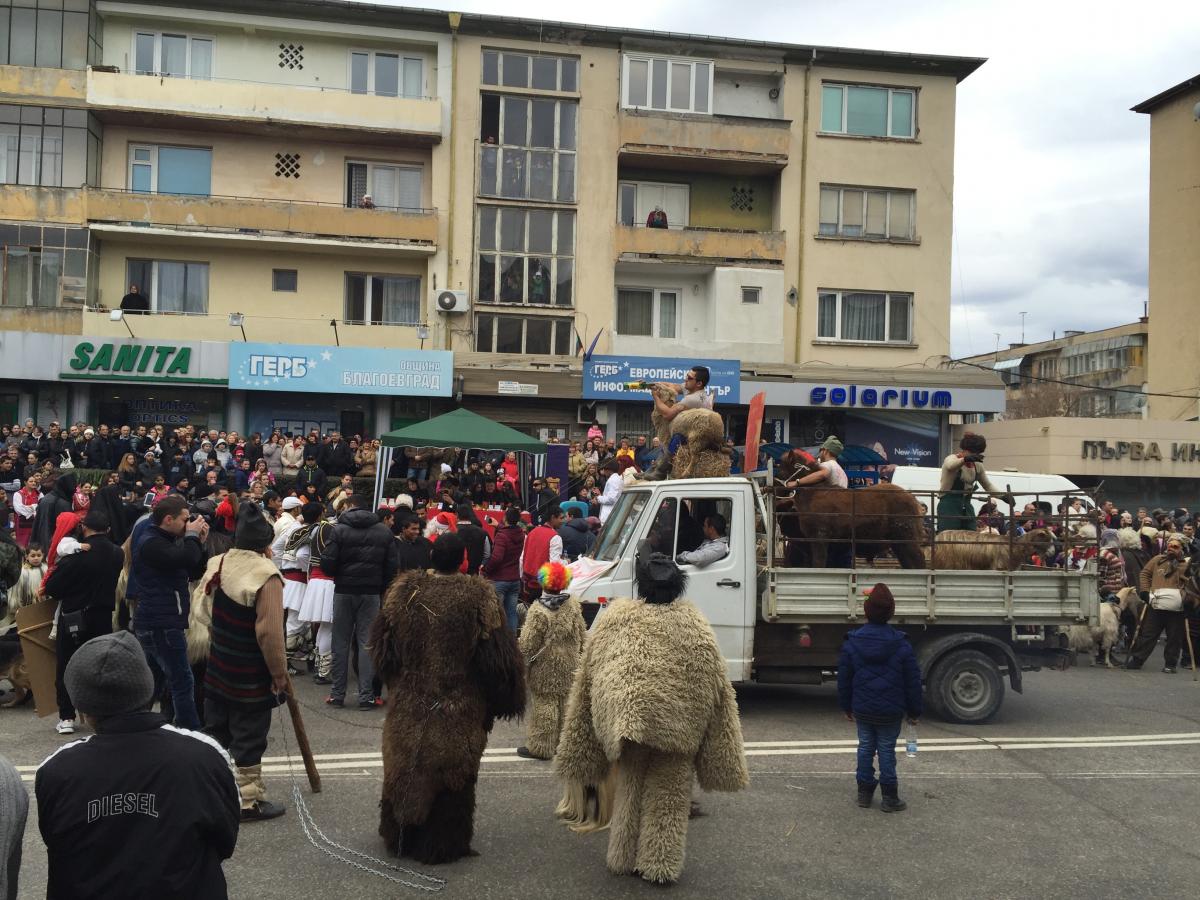 ---
Correction: The initial version of this post incorrectly identified the zurla as a duduk.
Update: The paragraph on the scarcity of the zurla has been updated to include information about the reasons for the instrument's scarcity relative to other folk instruments.