20 February 2016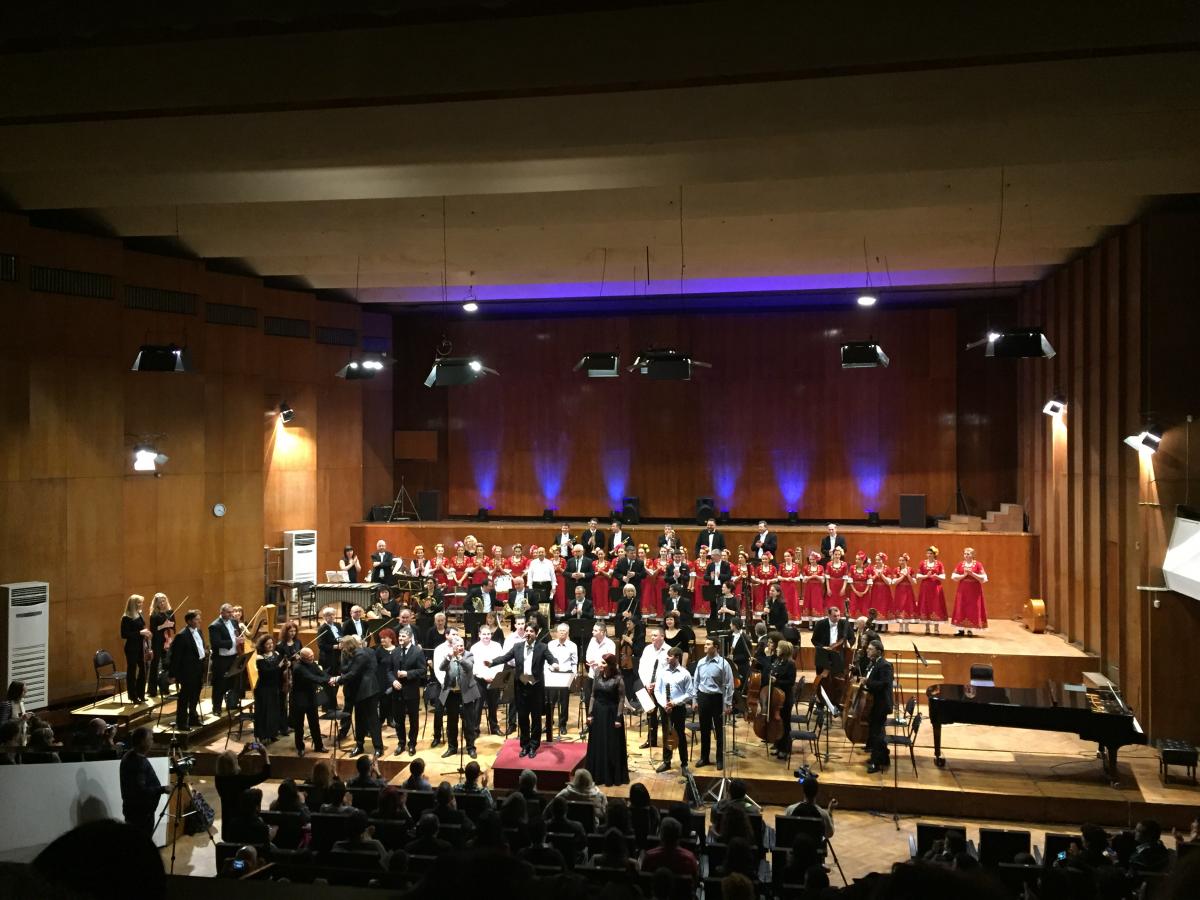 Many of the cultural and musical ideas that have fascinated me in Bulgaria collided in the Plovdiv State Philharmonic concert hall last weekend. The performance, themed "Game in Bulgarian Rhythms" (игра в български ритми; неразделни в класиката и фолклора), represented a collaboration between the Plovdiv Philharmonic Orchestra and folk musicians from AMTII, along with several featured soloists. The hall itself is unassuming, closer to what might be found in a high school auditorium in the States than the ornately decorated concert halls of many major cities.
The classical orchestra had about 40 members, including two percussionists, a harp, sometimes piano, and a fairly standard assortment of brass and winds. The string section was somewhat smaller than I might have expected given the general instrumentation. The folk orchestra had ten musicians: two on kaval, one on gaida, three on gadulka, two on tambura, one on bass, and one on tapan. There were about 30 women in the folk choir. The three ensembles performed in various combinations as well as individually.
As is apparent in the accompanying photographs, the clothing worn by the different musicians can provide insight into the cultural values attached to their respective performances. The classical musicians were decked in the standard fare of all black for women and black slacks, white shirts, and black jackets for men. The folk orchestra wore black slacks and white shirts in a very clear imitation of Western classical concert attire. This aligns with other Soviet-era cultural developments aiming to transform folk traditions into high culture by blending them with the supposedly more sophisticated practices of the West.[1]
I would go a step further and argue that, especially in contrast to the choir, the folk orchestra's clothing also presents a gendered/patriarchal view in which men, specifically, are the bringers of progress and development. The AMTII students who performed in the folk orchestra were all men, and as I have mentioned before, prior to the Soviet era it was quite rare to encounter women who played folk instruments. Women are still today only a minority of folk instrumentalists. Thus, I believe it is significant that the folk orchestra – and only the orchestra – wore this style of clothing. The choir, by contrast, wore bright red dresses and floral hairpieces in imitation of traditional rural Bulgarian clothing. This aligns with patriarchal associations of women with home, family, and tradition.[2]
In addition to my fascination with the musicians' clothing, I found myself confounded and amazed by the performance of the kaval soloist Theodosii Spassov. His name has come up repeatedly over the past few months when I have spoken with non-musician Bulgarians about my project, to the point where I might label him as Bulgaria's favorite kaval player. He studied both at the Kotel School and at AMTII in Plovdiv. For whatever reason, I had never looked him up on youtube, so what I heard last Saturday came as a great surprise.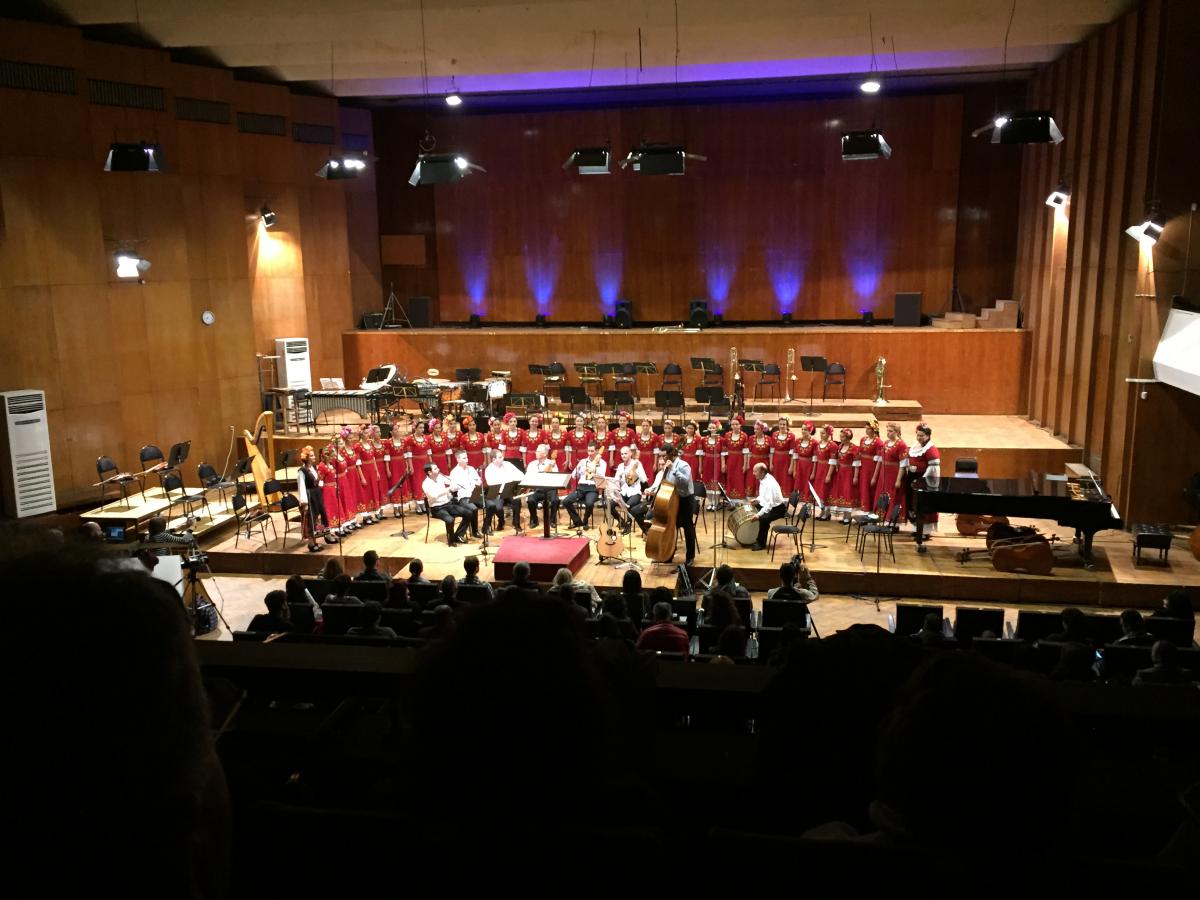 The best way I can describe it is a mash-up of symphony, Bulgarian folk, jazz, and "new music" (in the classical sense). He performed with a microphone as a concerto soloist with the orchestra, one piece on his own and one as a double concerto with a guitarist from AMTII. In addition to making the instrument sound variously like a kaval, a trumpet, and a clarinet, he used extended techniques like singing and percussive sounds. He also sang some scat on the side. I could clearly hear the folk influence in his use of Bulgarian-style ornamentation, but it was also melodically and in its gestures closer to jazz. The microphone enabled a much thicker orchestral backup than some of the earlier pieces of the program, in which the folk orchestra and the symphony orchestra primarily traded off like in a Mozart or other Classical period[3] concerto.
The concert felt like a great way to bring my time in Bulgaria to a close. Not only was it great to see Spassov perform, but it was also a chance to hear two compositions by the beloved Bulgarian-folk-music-for-orchestra composer Dimitar Hristov. By chance, he was sitting in the balcony row behind me. Unfortunately I didn't find the pieces particularly exciting or engaging on a musical level, but it was an interesting opportunity to reflect on the conversation between classical and folk music. The choir's solo performance, on the other hand, was one of the musical highlights of the evening. Though I have heard some recorded music from the Soviet-era Bulgarian women's folk choir genre, it was my first opportunity to hear those rich cluster chords and unison ornaments live. On a more personal level, many of my friends, colleagues, and teachers from the Academy were there, which gave me a chance to say goodbye to those I will likely not encounter again.
---
[1] The wedding bands I have encountered often wear jeans and a white top with colored embroidery around the neck, which could arguably be indicative of these ensembles' historic rejection of the government-sponsored goals of folk orchestras. The environment in which wedding bands perform also tends to be less formal – village squares or restaurants rather than concert halls.
[2] These associations may have been a factor in the success of the Le Mystère Des Voix Bulgares albums that helped launch Balkan music fandom in the United States and Western Europe in the 1980s, which may in turn have reemphasized this link. See Gerald Creed's Masquerade and Postsocialism (2011), ebook location 1106.
[3] "Classical period" with a capital 'C' refers to the period within classical music from the mid 18th century through the early 19th. It includes composers such as Haydn, Mozart, Beethoven, and Schubert.