22 July 2017
[Note: the material in this post has been drawn from research I did for a lecture recital at the Royal Academy of Music in London on 3 May 2017.]

Classical music is often described as "pure, abstract, and apolitical." We are taught that any "distractions" should be eliminated because they detract from the absolute, abstract beauty of the form. These distractions can be anything from unscripted noises like coughs or whispers, to movements deemed excessive on the part of performers or audience members, to multimedia or theatrical effects, to the clothing we all wear. At Wigmore Hall in London, for example, the pre-performance instructions go a step further than the standard reminder to silence cell phones by explicitly requesting that you "please stifle your coughs."
 
The rules around eliminating distractions are particularly strict for performers and audience members in an orchestral setting, where it is ordained that no instrumental musician should stand out from the whole of the ensemble –unless as a dedicated soloist. But even soloists are sometimes scolded for calling too much attention to themselves (see, for example, these New Yorker and Guardian articles about the pianist Yuja Wang).
 
Particularly for those of us who are not cis-men, gender is a category that is strictly policed and which is sometimes cited as being a distraction to colleagues or the audience. Criticism ranges from a performer being seen as too sexual (as in the case of Wang), not thin or pretty enough, or inappropriately masculine. Of course, what counts as "distracting" has changed over time alongside cultural norms of behavior, profession, and fashion. When I first joined the New York Youth Symphony in 2012, the dress code still technically required that women wear skirts rather than slacks, though that has since changed. This demonstrates that, not too long ago, debate was raging about whether women in orchestras could wear trousers. (For context, women senators could ditch their skirts in 1993.) The reasons?
"I tend to favour covered arms, especially among the violinists. You don't want to see too much flapping about… Then there's the problem of women in trousers. If you're slightly heavy in the rear end department, it does not look too good. Of course, not everyone acknowledges that and no one's going to tell them, which is why we need an across-the-board rule."[1]
 
Leonard Slatkin, currently the music director of two prestigious orchestras, made this statement in 2000 about women in trousers. Yes, in the 21st century! (Though considering certain statements the current US president has made, perhaps this shouldn't be surprising.) As far as I know, this statement did not have any repercussions for his career.
 
In a now infamous 2013 incident, two prestigious Russian musicians also made their opinions about women performers – specifically conductors – known. The young maestro Vasily Petrenko told an interviewer that orchestral players, presumably men, "react better when they have a man in front of them." He added, "A sweet girl on the podium can make one's thoughts drift toward something else." Similarly, Yuri Temirkanov stated, "The essence of the conductor's profession is strength. The essence of a woman is weakness."
 
The following are a few examples from history that demonstrate how what is considered to be a distraction in one era is normalized in another. This directly contradicts any claims that classical music can be separated from its social context. Not only this, but any claims that it can be only serve to stifle self-reflection and perpetuate inequality both on and off the stage.
 
[NB: the examples below relate specifically to flute and cello because this was the instrumentation at the lecture recital for which this research was originally compiled.]

1700s
 
Let's jump back to the late 1700s, when it was quite uncommon for women to play either flute or cello even in domestic settings, let alone professionally. Pamphlets from 1778[2] and 1798[3] - around the time of the Revolutionary War in the US - both describe how women should have some amount of musical training, for the entertainment of themselves, their friends, and family, but they should not be so skillful as to indicate that their attention was distracted from more important matters. Piano and violin were the two most popular instruments for women at this time, but there was some degree of geographic variation.
 
Though the opinion on women playing the flute was fairly consistent (they shouldn't), there seem to have been some mixed opinions about women cellists. A quote from 1722:
"The Harpsichord, Spinet, Lute and Base Violin, are Instruments most agreeable to the Ladies: There are some others that really are unbecoming the Fair Sex; as the Flute, Violin and Hautboy; the last of which is too Manlike, and would look indecent in a Woman's Mouth; and the Flute is very improper, as taking away too much of the Juices, which are otherwise more necessarily employ'd, to promote the Appetite, and assist Digestion."[4]
 
Appropriate behavior: women who played cello (they existed, though they were not as accepted as those who played violin of piano) wore voluptuous skirts to disguise the impropriety of holding something between their legs. The endpin had not yet been invented/popularized. I haven't found any records of women being trained as flutists at this time; as you can see from the above quote, it was clearly dangerous to a lady's health and appearance.
 
Mid- to Late-1800s
 
Prior to the two World Wars, women were already beginning to perform professionally in greater numbers. In the photo below, from around 1900, you can see the members of a women-only orchestra, a type of paid ensemble that would perform regularly and even tour, though of course the pay was substantially lower than for male orchestras and the ladies were closely chaperoned to ensure propriety while away from home.[5] These ensembles became increasingly popular in the 1890s, but not everyone was so keen to see women playing instruments like flute and cello.
 
In July 1892, there was an ensemble concert at the Royal Academy of Music in London that included a woman flutist. An attendee wrote a letter to The Globe and Traveller to complain, and an editor wrote the following statement in response:
 
"Lovely woman inevitably ceases to be lovely when she tackles a wind instrument… [Our correspondent] would like to have legislation on the subject, whereas we feel sure that the pressure of public opinion is quite sufficient to prevent the new fashion from coming into universal vogue. And besides, in spite of her newfound zeal to rival man in every department of life, women may generally be trusted to avoid pursuits which cannot be successfully followed except at a sacrifice of personal attractiveness."[6]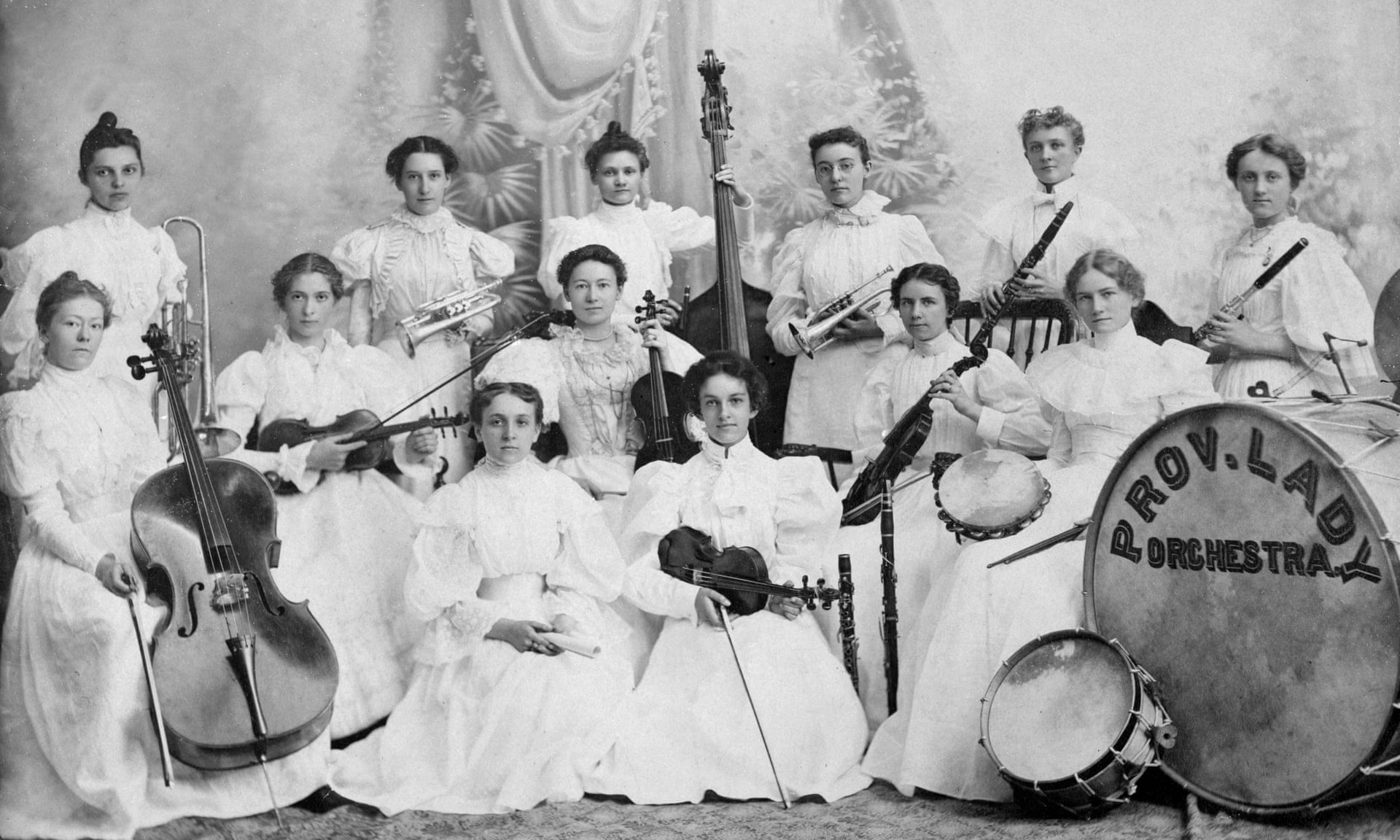 The following year, a similar opinion was shared by a writer in the Magazine of Music, another British publication:
 
"It is true that the Pyramids give evidence of the existence of female flautists in ancient Egypt; but there is as little reason for following the Egyptian ladies in this particular as there would be in our dudes denuding themselves of their moustaches because the Greek gods wore no upper lip covering. No; if women - that is beautiful women - want to play wind instruments, they must stick to drums. Otherwise, like proper, straight-laced damsels, let them hold fast by strings."[7]
 
The situation for woman cellists was also guided by questions of propriety. Cellos, like horses and bicycles, are generally held between one's legs during use. After observing the graduation competition for the Paris Conservatory in 1860, an unknown author wrote, "Lady-fiddlers we are tolerably well accustomed to, but the attitude of a lady grasping with all her limbs a violoncello is one to the grotesqueness of which usage has not yet reconciled us."[8]
 
Arguably, part of the reason there were increasing numbers of female cellists in the second half of the 19th century was the proliferation of the endpin, which most sources say was popularized by Adrien-François Servais. The endpin enabled woman cellists to play without requiring them to spread their legs, since the instrument could be balanced in a sidesaddle position.
 
Of course, in addition to changes that took place as years progressed, there were also many geographic variations, even within Europe – what was appropriate in France might not be in Germany, or what was normal in Italy might be outrageous in England.
 
Appropriate behavior: many women who played cello sat sidesaddle,[9] a practice that complicates proper bow alignment and shifting into higher positions. Flutists probably wore corsets, which restrict breathing, since up until the First World War these were a staple of feminine attire. Also, real men have moustaches.
 
1950s-60s

 
Doriot Anthony Dwyer became the principal flutist of the Boston Symphony Orchestra in 1952. She was the first woman to be the principal flutist of a major US orchestra and she received a relatively positive welcome from critics. She was, however, asked at her audition whether or not she intended to have children (how do you think her response may have influenced the audition outcome?), and a newspaper reporter questioned her about how she negotiated the difficulty of wearing lipstick and playing flute.[10] Fun fact: she was distantly related to the famous women's rights activist Susan B. Anthony, though her father disapproved of the latter.[11]
 
The middle of the 20th century was generally a time when professional women performers on both flute and cello were being more widely accepted in the US and Western Europe, though perhaps judged differently. In a 1962 article in American String Teacher, John Sherman wrote that he found nothing prettier than woman cellists because, "Both harp and cello are decorative instruments whose curves and grace lend themselves to the same attributes of the women who play them."[12] In the same article, he also detailed his opinion of woman flutists: "The flute, probably is the most comely musical instrument for women, and it fits the conventional male idea of how strong women are, and what kind of bird-like sounds it is fitting for women to make."
 
Appropriate behavior: women should be as curvy, elegant, and decorative as a cello, and as dainty, vulnerable, and bird-like as a flute. Be pretty! Appeal to our libido and the power structures of the patriarchy!
 
Conclusion
 
Things change! It is impossible to separate anything from its social context, and classical music needs to be called out for claiming to do so (alongside science, another field that often claims objective superiority – though that's a discussion for another time). Women flutists have not been around forever, and neither have silent audiences. All of these practices are not inherent to classical music, but the decisions we make about them – as performers, audience members, scholars, and critics – stake out the conversations that the art form is willing to have and the social and political risks it is willing (or not) to take. Can classical music ever be a place where norms are questioned and challenged, or will it always serve to reinforce these norms by pretending they are irrelevant?
---