20 May 2016
Two recent events that are relevant to the instersection of classical music and politics:
1. Palmyra, Syria (May 5 and 6) -  A pair of concerts were held at the ruins of an ancient Roman amphitheater. The site became infamous last year after ISIS, then in control of the city, released a video showing the execution of 25 men on its stage. Journalists from several news sources (including The New York Times, Time, Reuters, The Guardian, and The Economist) were flown in from Moscow and escorted by a military guard to cover the first of the concerts, which was relatively short and featured the Mariinsky Theatre Orchestra performing works by Bach and two Russian composers. Comments from Putin and others about this event indicate a fairly transparent attempt to contrast "savagery" (ISIS executions) with "civilization" (orchestra concerts). The second concert featured the Syrian National Symphony Orchestra, Syrian National Orchestra for Arab Music, Orchestra Mary, and al-Farah Choir. The entourage of journalists was not invited to this one. Who was the intended audience for the first concert, and who for the second? Which performers, and what type of music, was chosen as the image of "civilization"?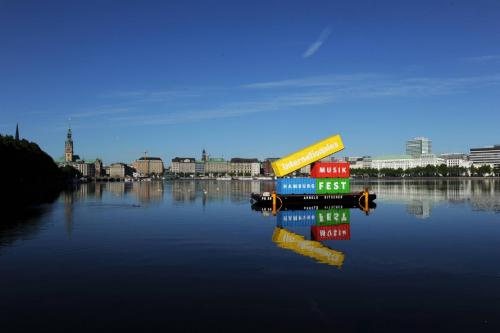 2. Hamburg, Germany (May 9) - Maurizio Pollini performed a piano recital as part of the Hamburg International Music Festival. The overarching theme of the festival was "freedom," and from my understanding each concert featured the voices and stories of different refugees (this is corroborated by the festival brochure). Before beginning his performance, Pollini sat silently as the recorded voice of a refugee spoke about his interpretation of freedom. The audience was restless and began to boo. None of the news reports describe any reaction from Pollini; apparently he continued with the program as initially planned. The man wfrom the recording was also in the audience. An article on the Bayerischer Rundfunk - Klassik website quoted the dramaturge as claiming that the audience booed because the recording was unexpected and not because of any anti-refugee sentiment. Considering the theme of the festival, why was the audience so shocked? Why didn't Pollini say anything, if, as the article claims, he supports the concert's political message? The festival organizers did not respond to my request for a comment.
Sorry if these bites seem a bit outdated in the churning of the news cycle (I'll try to get better about that in the future!). But I've been thinking about these stories for weeks and would love to know if they make any of you similarly uneasy.